Share Your Story – (scroll down the page to read the stories)
If you or one of your friends or family have a story to tell about internment or loss of their rights to "due process," we'd like to hear it and post it on this site.
Please give us as much detail as you can and if you have pictures or video to share, we'd love to see them. If your story is specific to internment during WWII, let us know. We are still in the process of editing the feature film and are seeking more images and archival footage and would value your input.
(To add your own story, just fill out the "Share Your Story" form below. You can upload pictures or send us a link to your video as well.)
Share Your Story

From: Erik V. Wolter
Subject: Arthur Wolter – Internee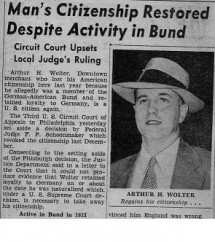 During WWII, in an effort to assure Americans that the homeland was secure from subversives and potential saboteurs, the loyalty of German Americans was challenged by the FBI. In 1943, my father, Arthur Wolter, was accused of being "the power behind the throne" of an organization, the German American Bund, targeted by J. Edgar Hoover as subversive and un-American. The charges were made even though Dad had not been involved in the Bund since 1939.
Many who suffered internment and deportation never had the benefit of a hearing, much less a trial like my father. Dad was one of nine men across the country that went through well-publicized trials. Declared disloyal and denaturalized, it took a 1945 decision by the Supreme Court in the Baumgartner case based on the First Amendment to reverse his lower court decision.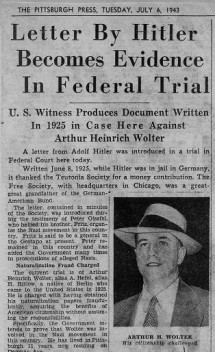 Arthur Wolter was well known for his column, "Wir Amerikaner," in German American newspapers like the "Weckruf." Described by the House Subcommittee for Un-American Activities as the "poet-laureate of The German American Bund," he was a natural target. The FBI files and the newspaper coverage confirm for me that the entire trial was intended for public consumption. The prosecutor, Premo Columbus, at first refused the assignment and had to be talked into pursuing the case by Hoover.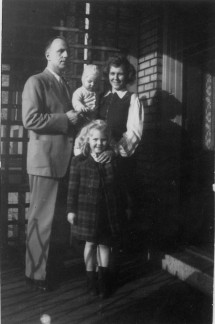 In my opinion, as documented in my book Loyalty on Trial: One American's Battle with the FBI, Hoover selected certain high profile German American citizens to demonstrate his resolve to the public after the landing of the saboteurs in Long Island and in Florida spiked nationwide fears of Nazis gaining entry to the U.S. to commit acts of terror. They were able to infer a connection to Dad in the trial because of an innocent contact my mother made once with Walter Kappe who at the time was the head of The German Foreign Institute. Mom was homesick shortly after they married in 1938 and went home to Germany for a visit. She wanted Dad to come back and wrote Kappe for employment leads. Dad had no interest in leaving America, so she returned. Only later did it appear incriminating when the government discovered that Kappe was the one who planned and trained the saboteurs in 1942.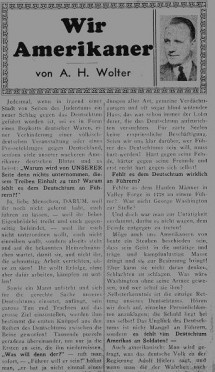 When the FBI came to our home in Pittsburgh and confiscated all Dad's books, poems, and writings, they also took love letters between Mom and Dad from while she was in Germany, despite telling them that they were personal and private. The agent proceeded to make fun of how the boys down at the office would enjoy translating love letters. As an enemy alien, Mom was reluctant to protest too much.
Dad was fired from his job because of the trial. Even after the appeal was won, staying in Pittsburgh was not an option. Even our closest neighbors shunned my parents. We moved to Chicago. It took ten years before Dad could convince Mom to apply for citizenship. She was certain that she would have the FBI at our doorstep once again. Today, at 97 years old, she remains fearful of the FBI and has regrets that I ever wrote the book. Dad died in 1994. The experience with the FBI and the trial had remained a secret to me and my sister until 2001. The box with the trial transcript, newspaper clippings, and related items had been hidden in a closet since 1945. Only a move out of state by my mother, allowed me to discover what happened.
Erik V. Wolter
Winter Park, Florida
_______________________________________________________________________________
Baltrusch Brothers
My grandfather, Arthur Baltrusch, was interned at Sand Island Detention Camp and Honouliuli Camp as a United States Citizen German Birth during World War II. His story has been a family secret and a source of family shame for many years. I have attempted to write his story several times, and each time I hesitate because I don't feel his story is worth telling, for I believe it is just another story of hardship during the war.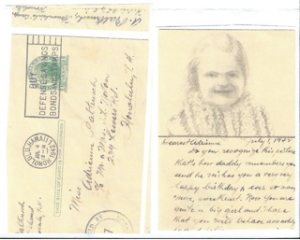 My interest of his story began when I found several post cards tucked in albums of my mom's from her father in 1942. One is hand drawn in blue pencil with a teddy bear in a long floral dress holding a birthday cake wishing my mom a Happy 7th Birthday, and the second post card has a pencil drawing of my mom as a little girl in which my grandfather stated that the drawing is how he remembers the way my mom looked like and he wrote her to be a good little girl for her mommy while dad is in camp. These post cards puzzled me because I knew that the Japanese were detained during World War II, but there was no information about Germans being detained during World War II. All my sources of information were from my grandmother, Beatrice Baltrusch and my mom, Adrienne Baltrusch, who was just five years old when her father was taken away. The only hard evidence I had were these two post cards linking him to Sand Island Detainment Camp in Hawaii. Why was he interned and was he a Nazi spy?
I continued my research online looking up German Internment camps in the United States, and found one day the GAIC website. I contacted the group and discovered that a daughter living in Hawaii knew of my grandfather. Most of all I am grateful to Karen Ebel, president of GAIC, who spent countless hours emailing NARA, National Archives and Records Administration, and found the military records of my grandfather, Arthur Baltrusch. Now I had over 300 pages to read with much happiness and sadness.

Arthur Herman Baltrusch was born on October 29, 1903, Barmen/Wuppertal, Germany. He was the eldest son of Arthur and Grete Baltrusch. After attending Cologne University and a year at the Sorbonne University, he immigrated to Honolulu, Hawaii in 1923. He had convinced his uncle, Robert Lange, to give him employment Hoffschlaeger Company in Hawaii. By 1934 he was employed as an accountant with Castle and Cooke Company. He was granted a certificate of naturalization on May 25, 1929. Then on September 28, 1935, he married my grandmother, Beatrice Norton, who was born in Fresno, California. They had one daughter, Adrienne Baltrusch, who was born in Honolulu, July 8, 1936.

During this time, my grandfather helped arrange for his brother, Herman Baltrusch, to come to the United States for the purpose of avoiding the Nazi regime in Germany. Then the following year, Herman sent for his German Fiancée, Margaret Dahm, to be with him in Hawaii. They had two daughters, Karin and Ingrid Baltrusch, who were born in Honolulu.
_______________________________________________________________________________
Margaret, Ingrid, and Karin Baltrusch 1943

The bombing of Pearl Harbor in 1941 changed immediately the lives of my grandparents and my grand Uncle and grand Aunt. In the morning of December 7, 1941, my grandfather witnessed the low flying Japanese Zeros zoom overhead of his recently built house located at 956 Kealolu, Hawaii. By December 8, 1941, he received word that his brother and sister in law were arrested and detained at the U. S. Immigration Station leaving their 2 ½ and 1 year old daughters behind. My grandparents had to pick up the abandoned nieces, Karin and Ingrid, since the military police wouldn't take the children into custody.

Both Herman and Margaret Baltrusch were given proceedings of a board of officers and civilians for the purpose of "Hearing evidence and making recommendations as to internment of enemy aliens." Proceedings of a board of Officers and civilians which convened at Honolulu, Territory of Hawaii, pursuant to Special Order 315, Headquarters Hawaiian Department, Fort Shafter, T. H. Margaret Baltrusch sat on the witness stand alone in front of three board members, Mr. D. G. Crozier, President, Mr. Frank Thompson, Junior and 1st Lt. Robert I Freund, CAC, Executive and Recorder. At one point during her questioning the following was recorded: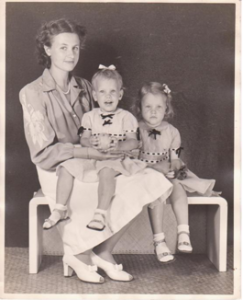 "Question: (By Board) sit back and make yourself comfortable. What does your husband do?
THE INTERNEE: Dry goods and shoes, salesman.
Q: Don't cry. For your benefit relax and take it easy.
Q: (By Recorder) I just want to emphasize one point, Mrs. Baltrusch, and that is this: It has been the good natured part of the Government to allow you this hearing.
THE INTERNEE: Yes.
THE RECORDER: If you were back in your own country in all probability you won't have this opportunity.
THE INTERNEE: I don't want to be. I am happy here.
THE RECORDER: The idea is we want to give you a chance to tell us everything.
THE INTERNEE: Yes, I know."
In the end, Margaret Baltrusch was detained from December 8, 1941 until January 27, 1942 in which was released on parole. My grandparents immediately took care of their nieces for over six weeks, and during that time my grandmother became concerned that Karin kept spooning sugar into her foods. She took her to the doctor who diagnosed her at age 3 with diabetes. Fortunately, Margaret was paroled, reunited with her daughters and lived in Honolulu; however, unfortunately, she had the hardship of being separated from her husband, left to fend for herself in Hawaii and support her two babies. She would have to wait a couple of years until she and her daughters would reunite with her husband on the Mainland.
_______________________________________________________________________________
Arthur Baltrusch circa 1933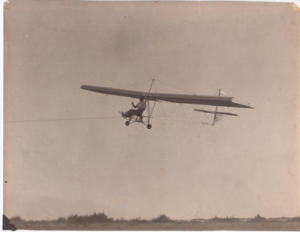 Even though, my grandfather was a U S citizen, he was arrested on the evening, February 15, 1942, after celebrating my grandmother's 30th birthday. She recalled that they returned home early because of the blackout orders due to martial law on the island. The doorbell rang and two men were at the door. They said that they needed Arthur to come with them in order to answer some questions, but my grandfather knew that wasn't true since he knew what had happened to others right after December 7th, so he went into the bathroom to gather his toothbrush and thought for a moment that he could bring his razor, but realized that they wouldn't let him take it especially when one of the men followed him into the bathroom. My grandmother stated "It sure was spooky" having the men in their house.
_______________________________________________________________________________
Night of Arrest, Arthur, Beatrice, and Adrienne Baltrusch, February 15, 1942.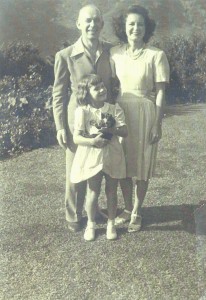 Bea didn't get to visit Arthur for several weeks. She said that she would leave things for him at Sand Island Detention Center with the guards. Arthur sometimes got the items and again sometimes the things were stolen by the guards. Eventually, he was allowed to write short letters to her and my mom; however, they usually did not say much. She wasn't able to visit him until much later and when she did get to visit him it was in a large room with tables and benches. Unfortunately, we cannot ask my grandmother why she did not take her daughter, Adrienne with her on the visits. My mom recalls sadly never seeing her dad during his internment. We have a copy of a letter from the internees sent to the camp director, requesting to extend the visiting hours for European Internees to every Sunday instead of every other Sunday. The request was denied. We can only conclude that it was a hardship for my grandmother to bother taking her daughter to visit her father and that she preferred to go alone during the limited visiting hours.

Arthur Baltrushch received his first hearing on March 10, 1942 at the Headquarters Hawaiian Department, Fort Shafter. After reviewing his FBI papers, I noted that the agents deemed my grandfather as suspicious civilian. The first action that made him suspicious was that in August 25, 1936, Arthur was appointed as Ensign in the United States Naval Reserve. I suspect that he wanted to join the Naval Reserve because he loved being a U S citizen and wanted to serve his country, and in addition, I believe he wanted to supplement his income with a growing family. He was called to active duty on July 14, 1941, but he requested a deferment on June 20, 1941. By June 27, 1941, he submitted his resignation from the Naval Reserve before being placed into active duty. His resignation was accepted by the Navy Department on August 1, 1941. My grandfather was 38 years old at this time, married with one child, employed as an accountant with Castle and Cooke, and responsible for paying off a house mortgage, medical bills incurred by my grandmother losing two early pregnancies; therefore, he felt conflicted in deciding to resign from the Naval Reserve. However, the hearing board questioned him relentlessly on his loyalty to his country. The hearing board concluded that he was formerly an Ensign United States Naval Reserve but in order to avoid a call to active duty in July 1941, he resigned his commission due to pay as Ensign was insufficient to pay his expenses.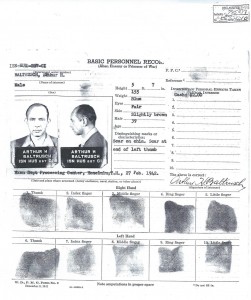 Sadly, one of the informants to the FBI was their neighbors, Joseph and Alice Zeman. The Zemans testified against my grandfather at his hearing; however, my grandfather was not allowed to be present or to hear the testimonies of the prosecuting witnesses. My mom was stunned to learn in 2010 that this long time family friend and neighbor was one of the primary witnesses against her dad. They mostly testified that my grandfather was pro-Nazi, that he read the book "Mein Kampf" because they observed the book on the table next to his chair in the living room, and that he was a socialist because after watching the movie "Grapes of Wrath" together, they claimed he said that Germany would never allow their citizens to live in those dreadful conditions as portrayed in the movie."

Interestingly, one document dated April 29, 1942, titled "In the Foregoing Case of Arthur Baltrusch" from the Headquarters Hawaiian Department, Office of the Assistant Chief of Staff of Military Intelligence, Contact Office, Dillingham Building, Honolulu, T. H. Stated: "We, the undersigned representatives of our respective Intelligence Bureaus, concur in the recommendations that member of the Board, namely 1st Lt. Robert I. Freund, who recommended that Arthur Baltrusch be interned, and do not concur in the recommendations of those members, namely, Lt. Col. Edward Massee, U.S.A., RET., Joseph J. Kelley, and Frank Thompson, JR., that recommended that Arthur Baltrusch be paroled, and we recommend that Arthur Baltrusch be interned." I cried reading this page because ultimately one man changed the fate of my grandfather's life. Arthur successfully requested a second hearing in December 18, 1942 and the board findings on January 22, 1943 stated as follows:
"The board having carefully considered the evidence before it finds:

1. The internee, Arthur H. Baltrusch is a naturalized citizen of German birth.
2. That his loyalty to the United States is questionable.
3. That he is not engaged in any specific subversive activities.
Recommendations: In view of the above findings, the board recommends that the Internee remain interned for the duration of the war."

My grandmother emphasized that the gen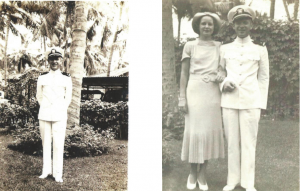 eral public were not interested in what was happening to their local citizens. Everyone was too scared to get involved even if they knew someone who was being detained. Many citizens left the Islands, especially, women and children thinking they would be safer on the Mainland. As a result of being interned, my grandfather loss over 40 pounds, he had stomach issues, dental issues, and he suffered from anxiety and depression. He requested the following books: "The Importance of Living," How I used Truth," and "Industrial Accounting in War Economy." They had to deal with the opinions that he must have done something wrong otherwise how could this happen unless he was a spy. She said that she got use to being snubbed many a time. She continued to keep in touch with loyal friends who tried to get Arthur out. They would hear rumors that he would be released the following month etc, but two and half years dragged on before he was released without warning. My mom recalled seeing this strange man, being dropped off at her home for she did not recognize her father nor did know what to say.
_______________________________________________________________________________
Adrienne (7), Karin (4), and Ingrid (2) Baltrusch, Honolulu, Hawaii, 1943
being snubbed many a time. She continued to keep in touch with loyal fHerman Baltrusch was released on April 5, 1943 from Camp Stringtown, Oklahoma and paroled on April 15, 1943 to Chicago, Illinois to Rev. John Ironside who was found willing to act as sponsor. Margaret Baltrusch and her daughters departed on July 19, 1943 to reside in Chicago with her husband.

Arthur Balthrusch was finally paroled on June 30, 1943 to Le Forest MacComiskey, who was his former boss at Castle and Cooke.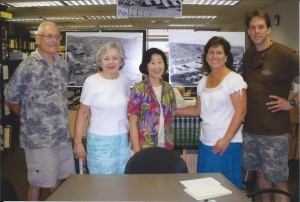 Milt Carter, Adrienne Baltrusch Carter, Japanese Center Hawaii, Shauna Carter Hartley, Greg Hartley
Photo taken : June 2010, in front of aerial photos of Honoliuli Camp.