The panel discussion of Internees yesterday at the Vonnegut Library in Indianapolis was fascinating.
It was a pleasure to meet Francis Ott Allen and Al Wohlpart and his wife Pam at the event. Along with Eberhard and Anneliese, their stories of Internment moved the audience.
We also screened our trailer for the group.
All four of these folks were interned in Crystal City, Texas during WWII.
The summary below was written by Anneliese Krauter.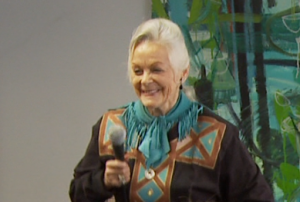 ~ On January 26th, 2013, four of us former internees told our stories to a packed house at the above mentioned library. We estimated up to 150 attendees. We were hosted by the director of the library, Julia Whitehead, and her staff.

~ The presenters were Frances Ott Allen (Cincinnati,Ohio), Alfred Wohlpart (Oak Ridge, Tennesee) Eberhard Fuhr (Palatine, IL) and yours truly, Anneliese (Wiegand) Krauter (Indianapolis, IN).

~ I had attended a presentation at the library the previous year given by four former japanese internees and immediately approached Director Whitehead, to ask if we german/americans could have a date to tell our stories. Not surprisingly, she had never heard of any other ethnic groups having been subjected to the very same thing. After a short conversation and my handing her a copy of my book, she promised to get in touch. This she did – and there we were. It took almost a year to get into the Vonnegut Library schedule.

~ For the opening of our program, a staff person first introduced the two people that are in the process of creating a documentary on internment. They were there to show a "trailer" describing the subject matter, accompanied by several visual interviews of internees many of you will recognize.

~ FYI – click on their website: www.ChildrenOfinternment.com and you will be in the know.

~ The documentarians also came to film our individual presentations.

~ Following introductions by library staff – Anneliese Krauter was lead off speaker. I recanted the day my father was picked up by the FBI – right out of his butcher store in brooklyn (July 10th, 1942) taken to the FBI field office in Manhattan "just for questioning" – after which he'd be brought back home.

That didn't happen. He never returned. Not until late summer 1943 when my father was returned from detention in Fort Lincoln, North Dakota, were we re-united on Ellis Island and sent on our way to Crystal City family camp. I told about camp life, but especially high lighted my father's choice to be repatriated and what actually happens to a German immigrant family that is caught in this vortex of political turmoil and hatred and subsequently returned to its homeland during the height of WW2 (Feb.1944) life threatening situations: bombings, diving into bunkers, advancing fronts, liberation – then excaping from dreaded Russian occupation. The entire story documented in my book and my father's FBI file.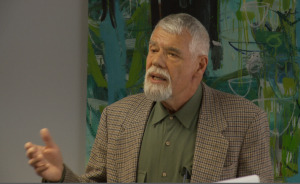 ~ Alfred Wohlpart followed with his story. It echoed mine in many ways, but being the professor he was before retirement – he turned the room into a lecture hall. He had the entire audience in rapt attention as he told of some of the details of his father's "strikes against him" that landed him in detention, labeling him a "dangerous enemy alien." after Crystal City, the Wohlpart family also opted for repatriation. Throughout the rest of the war and subsequent allied occupation, by some miracle – to this day – our two families managed to stay in touch. We originally met on the train from Ellis Island to Crystal City, Texas.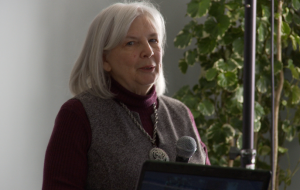 ~ Frances Ott Allen was next. She told her story accompanied by a powerpoint presentation. The pictures of her family, her childhood, her home by the lake that her father refurbished piece by piece was illustrated more than words could describe. All of it was lost when he too was taken away and interned for no valid reasons but for the heresay of others.

They too were reunited in Crystal City – to remain "for the duration." Frances' father was a most gifted wood craftsman. While in camp – to wile away the hours (and probably keep his sanity) he created the most beautiful inlaid boxes, trays and other artifacts. She had many illustrations of his art work. Frances also brought along a hand embroidered tablecloth that Eberhard Fuhr's mother had stitched and given to her when she celebrated a birthday in camp. A treasure that she so generously gave to Eb to have as a family keepsake. To me the most moving part of her story was when at the end of their detainment, the camp authorities gave her father fifty dollars and told him he and his family were "free to go." I can only imagine…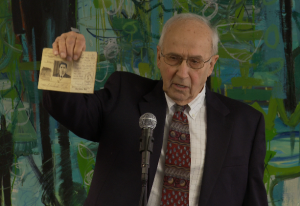 ~ Last but not least, our elder statesman – our anchor man – Eb Fuhr – told his story. His parents had already been interned; his youngest brother at age 12 had the choice of voluntarily joining his parents or be placed in an orphanage, while Eb and an older brother were plucked out of their classrooms, arrested on the spot and thrown in jail in downtown Cincinnati. A series of unbelievable, uncalled for events happened to Eb before he too finally was able to join the rest of the family in Crystal City.

At the time, we were all still very young kids – six, seven and eight – Eb was already seventeen. His memories of camp life are therefore colored somewhat differently than ours. He was already a young adult, among those internees that worked, helped and cared for the rest of us inside the confines of our "gated community." but the most unbelievable part of his story is the fact that he was taken to Ellis Island from Crystal City and threatened with deportation before the authorities decided to release him from detention. This happened two and one half years after the war was over! Eb was 22, the year 1947 was almost over. What an outrage…

Eb came with much documentation that he shared. He closed by inviting questions.

We had a most attentive, interested and inquisitive audience. Many thanks to the Vonnegut memorial library for giving all presenters the opportunity to speak.