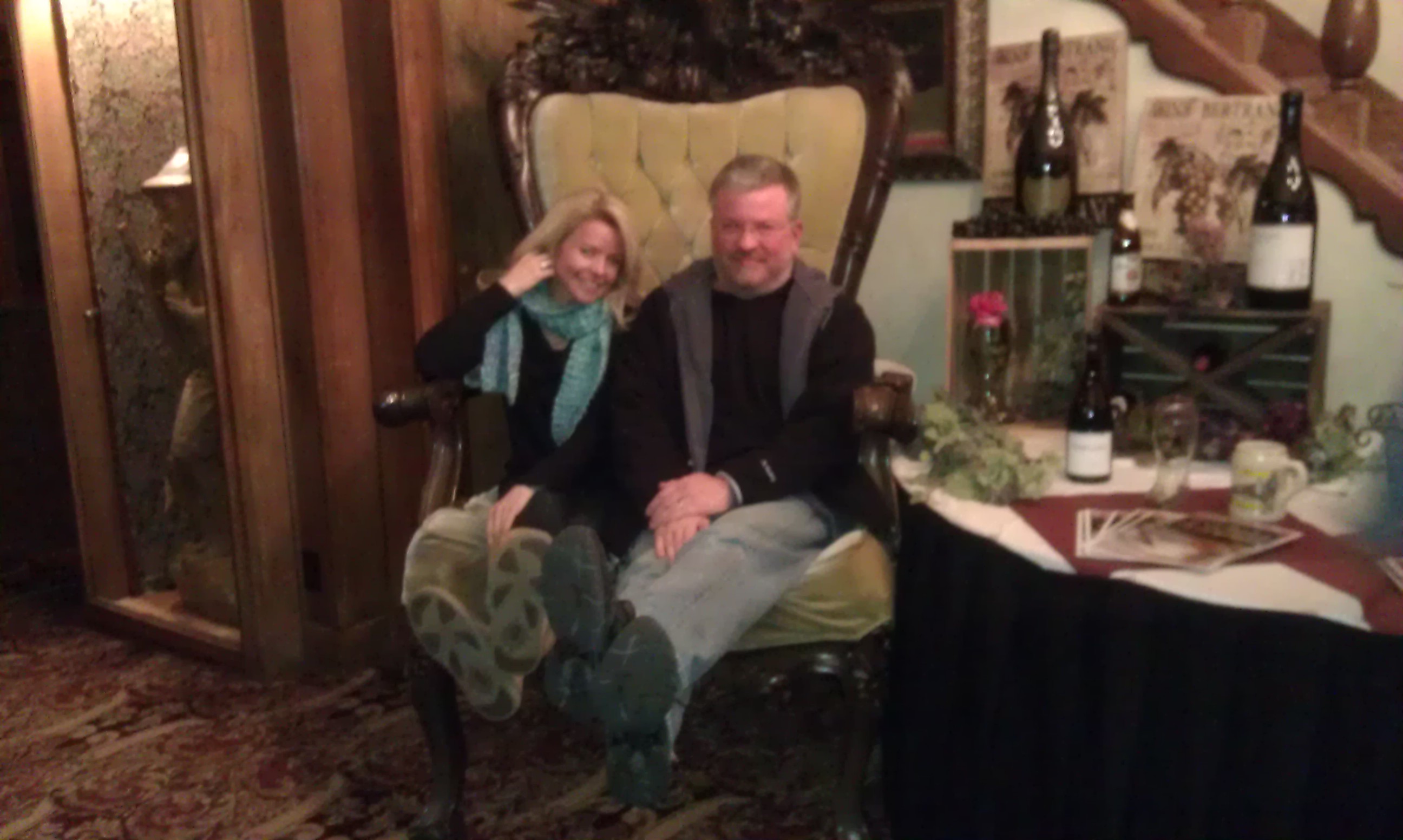 Kristina and Joe in the Big Chair at Mader's – Milwaukee, WI –
Our first interview was in May 2012. I flew out to Indiana and we drove up to Chicago to meet Eberhard at the Ellis House. This was the house he was detained in 1943 with his brother, Julius, after they were arrested for "suspicion" in Cincinnati.

The house is currently privately owned. We were lucky the homeowner was so gracious and interested in this story. After the interview we drove through Chicago, down Lakeshore Drive and filmed B-roll. Joe had the camera and was hanging out the sunroof and I was driving the Hummer! We were zooming along under the L-train tracks and we were both laughing out loud.

-Back to Indiana to fly home to Los Angeles.

-The last weekend in June, Joe flew to Los Angeles to join me. We had four interviews that weekend. We traveled around Los Angeles and the surrounding areas. As an interviewer I made a lot of mistakes, but I learned a lot. And always you get plenty of B-roll!

-Later in September, Joe flew back to Los Angeles and we went, together, up to San Francisco and the surrounding areas. That was an especially fun trip. We were getting used to the interview process and San Fran is so beautiful. There was so much to shoot. We wrapped up our days, there, at the Fisherman's Wharf. Great restaurants were everywhere.

-Finally in November was the Annual Spinach Festival in Crystal City, TX. We both flew in to San Antonio. We had two interviews there. We took a quick walk over to the Alamo and ate Mexican food along the riverwalk in San Antonio with Eric Gehrman and his wife. We are both just tourists at heart. The only other time I had been to San Antonio was in 1984 during my first month on General Hospital. I was an Aztec Princess then. lol

We drove down to Crystal City to the internment camp there. It's an agricultural area. There were not many ruins of the camp left. There really wasn't anything left standing.

The interview with Richard Santos made it definitely worth the trip. He took us over to a cemetery where some of the internees from the camp had been buried. The graves were unmarked except for two. We also saw a dump site where the government had left some of the old offices of the camp. We attended the Spinach Festival Parade.

Joe got a little camera happy. When I saw him running with his camera between the lines of tubas and trombones in the marching band I thought I was going to loose him! The next day we were off to another part of Texas for our last interview in the state.

-Smash cut…The end of November, I flew in to Indianapolis. We were headed to Chicago again and Wisconsin. First stop, Milwaukee. I mention Milwaukee specifically because we ate at the greatest German restaurant ever, Mader's. After three more interviews in Wisconsin, we were done. 2013 was a year of flying back and forth to Indiana to edit with Joe.

-Our first screening was in Los Angeles, at the Chinese Theaters on January 27, 2014.

Now it's time for our first Film Festival. Hooray!